World Class Specialty Eye Care
Celebrating over 35 years!
After your cloudy lens (cataract) is removed it is replaced with an intraocular lens (IOL).  There are several IOL options that remedy different types of vision problems. During you consultation and together with our doctors we will help you decide which option is right for you.
Monofocal IOLs
These lenses are standard IOLs that correct your vision to one focal length (either distance or up-close). However, these lenses do not correct for astigmatism (eye shape irregularity).  This means most patients will see better after surgery than what they did before cataract surgery, but unlike other lens options, may still require glasses at all distances for the best vision.
Toric IOLs
These lenses are like monofocal IOLs in that they correct your vision to one focal length (either distance or up-close). However, unlike monofocal lenses, Toric IOLs correct for astigmatism (eye shape irregularity).  Broadly speaking astigmatism can be corrected using various surgical techniques, most accurately with the utility of Laser cataract surgery treatment and/or with Toric IOL utility.  Toric IOLs are designed to correct higher order levels of astigmatism.  
Multifocal & Extended Depth of Focus IOLs
Multifocal & EDOF implantable IOLs use unique optics providing near, intermediate, and distance vision. These lenses utilize diffractive lens technology to optimal light energy and vision to the retina.   These lenses include AMO Tecnis Multifocal, Alcon AcryoSof ReSTOR Multifocal and AMO Symfony Extended Depth of Focus.  Each lens has its own unique advantage and disadvantage and based on your needs our do doctors can customize an option that is right for you.  Even though these lenses provide a range of vision and some patients do achieve complete spectacle independence, many patients generally have an overall decrease in the need for glasses but it is not eliminated.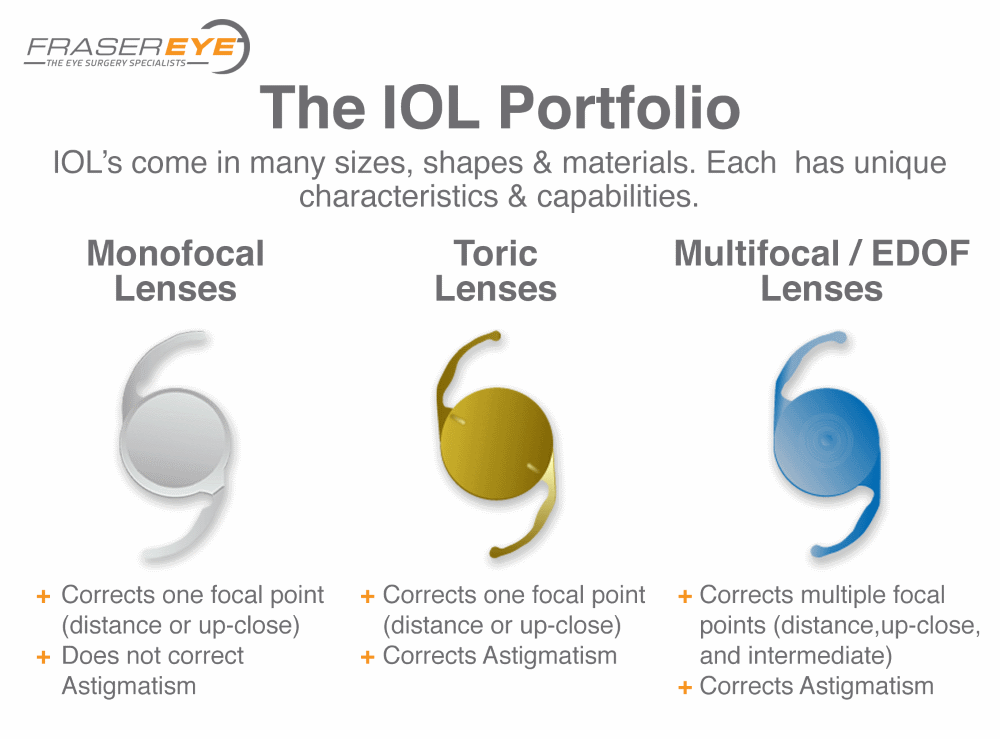 Cataract Surgery Options Summary
Taking your lens options and how your surgery can be performed providing an exciting but an overwhelming experience. Rest assured, our surgeons will take as much time to explain your options, evaluate your vision needs, and help you decide which is right for you.
We have categorized your options into the 3 main options.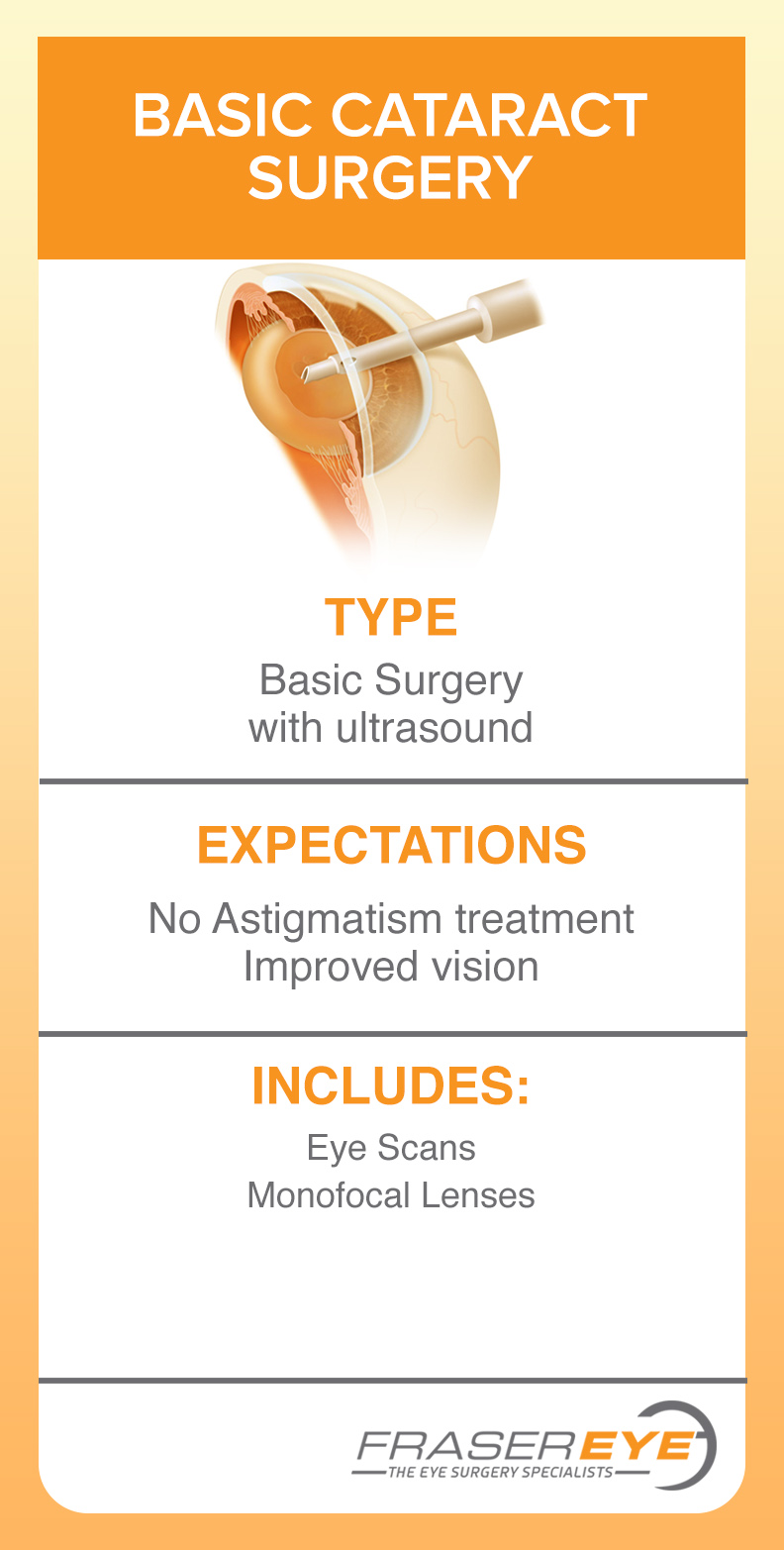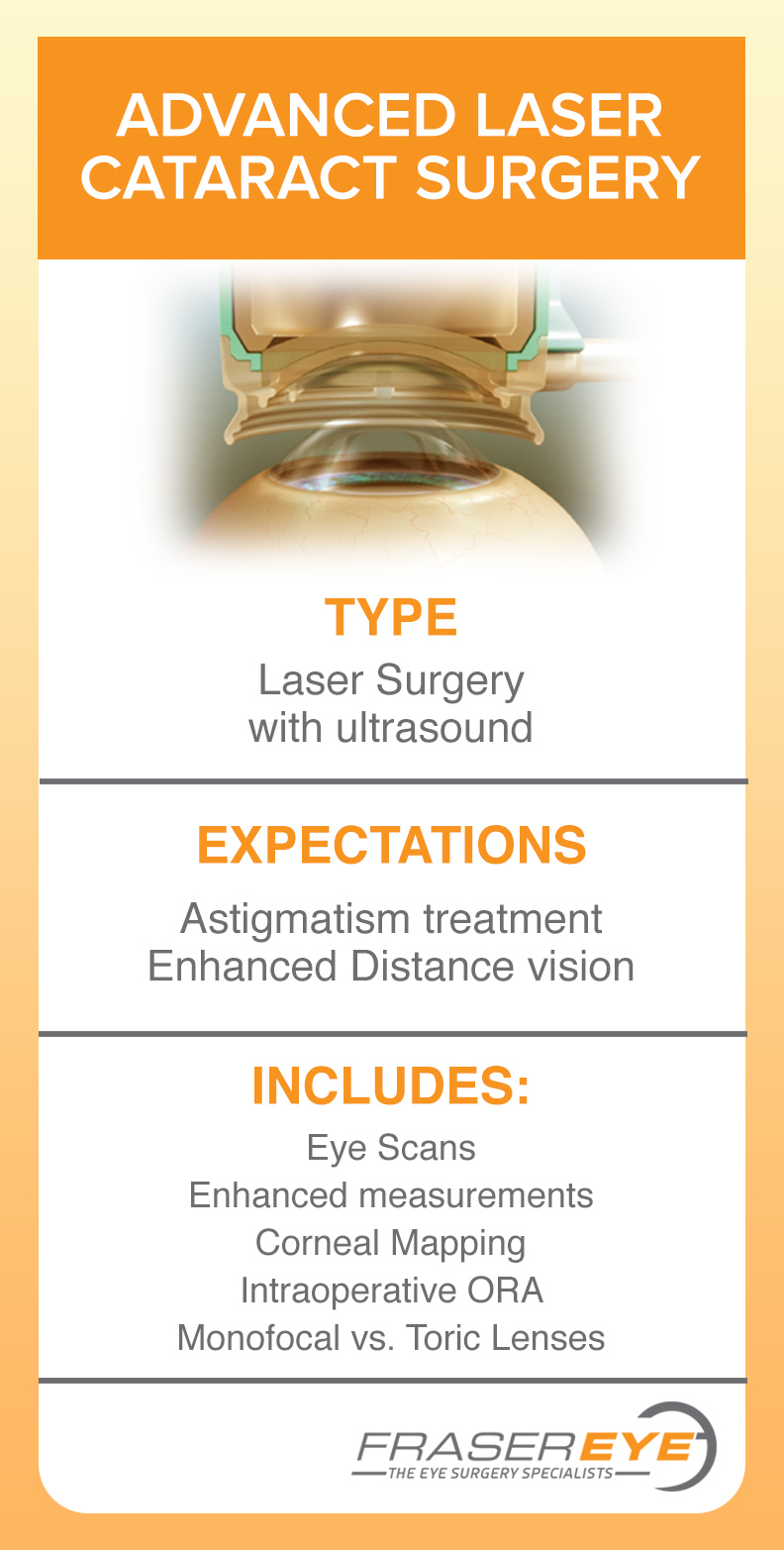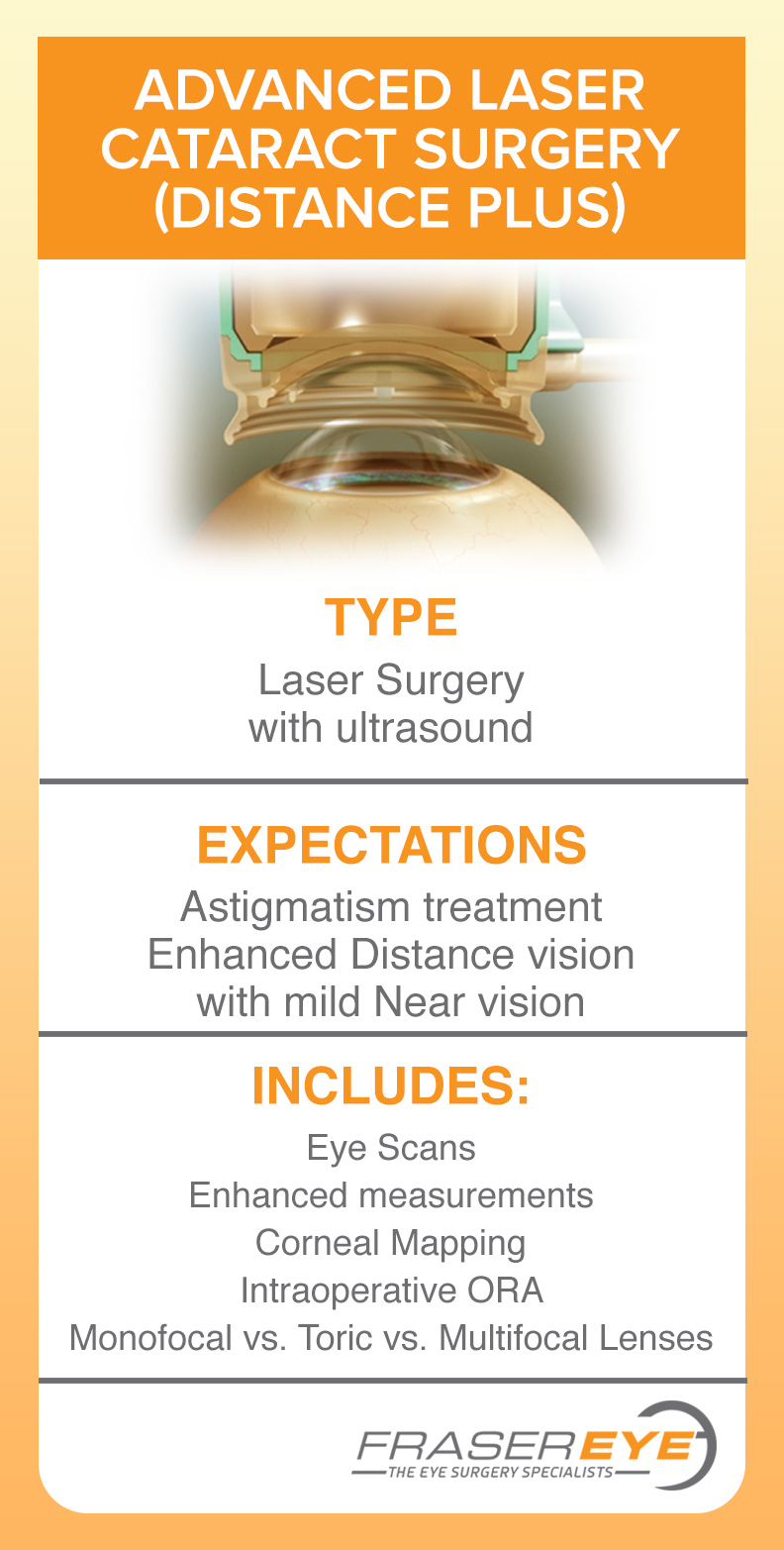 Take Our Online
Self Evaluation
LASIK
Cataract
Dry Eye
DropLess Cataract Surgery
Dropless cataract surgery eliminate the need for pre-operative and post-operative antibiotic and anti-inflammatory eye drops in most patients. Our doctors will help decided if that is a good option for you.
Cataract Surgery Expectations & Recovery
Will I feel any pain during Cataract surgery? Can I wear makeup the next day? When can I work out or play sports? These are some of the more frequent questions patients ask about Cataract surgery.
Cataract Surgery FAQs
Our doctors and support staff are here to answer any questions you may have about Cataract surgery. We have compiled answers to some of your most frequently asked questions.