World Class Specialty Eye Care
Celebrating over 35 years!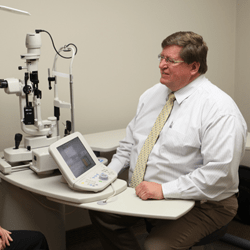 Dr. Barton is a Board-certified Ophthalmologist specializing in the surgical management of Oculo-plastics and the medical management of General Ophthalmology. Born and raised in the Port Huron area, Dr. Barton is the primary Ophthalmologist in our Port Huron office, Eye Care Center of Port Huron. He is the Chief of Surgery at Lake Huron Medical Center and is on staff at McLaren Hospital.
Botox Injections
Blepharoplasty
Ptosis Repair
Ectropion/Entropion Repair
Age Related Macular Degeneration
Diabetic Retinopathy
Glaucoma management
Complete Eye Examinations
Residency: St. John Health System
Medical School: Michigan State University
Undergraduate: Central Michigan University
American Academy of Ophthalmology
American Osteopathic Colleges Of Ophthalmology And Otolaryngology HNS
American Osteopathic Association
Michigan Association Of Osteopathic Physicians And Surgeons
Take Our Online
Self Evaluation
LASIK
Cataract
Dry Eye