World Class Specialty Eye Care
Celebrating over 35 years!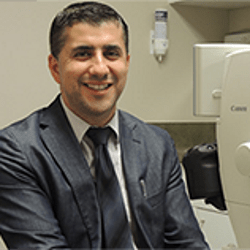 Dr. M. Basha DO, MMSc, FACS, is a board-certified ophthalmologist with extensive expertise in anterior segment ocular surgery. Having performed thousands of cataract, glaucoma and refractive surgeries.  Dr. Basha is a valued educator, not only to residents and medical students, but also to established physicians and surgeons from around the country. In addition to his busy practice, Dr. Basha is an active researcher and accomplished lecturer. His contributions to the ophthalmic literature include authoring numerous peer-reviewed papers, original articles, and scientific presentations and is an Ad Hoc reviewer for The Journal of Retinal and Vitreous Diseases. He is also active in clinical trials as the principal investigator. And is a speaker and consultant to a wide number of ophthalmic companies.
Cataract & Intraocular Lens Surgery
LASIK
Laser Cataract Surgery LenSx
PRK
Laser Vision Correction
Custom Intralase LASIK
Pterygium Removal
Replacing & Removing Previous Cataract surgeries
Glaucoma surgery
Selective Laser Trabeculoplasty
Fellowship:  LSU/Ochsner Medical Center, New Orleans, LA
Residency:  Lake Erie College
Medical School:  Michigan State University
Undergraduate:  Wayne State University
American Academy of Ophthalmology
American Society of Cataract & Refractive Surgeons
American Glaucoma Society
American College of Surgeons
Take Our Online
Self Evaluation
LASIK
Cataract
Dry Eye