World Class Specialty Eye Care
Celebrating over 35 years!
Macomb Daily
April 10, 2015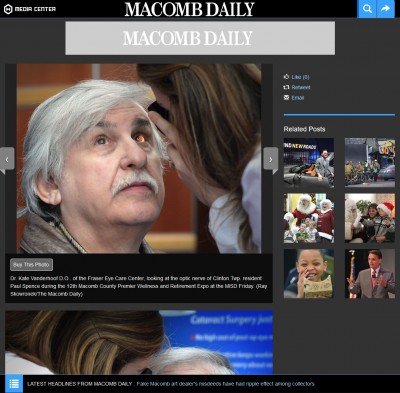 Dr. Kate Vanderhoof of the Fraser Eye Care Center, looking at the optic nerve of Clinton Twp. resident Paul Spence during the 12th Macomb County Premier Wellness and Retirement Expo at the MISD Friday.
Crain's Detroit Business
March 12, 2013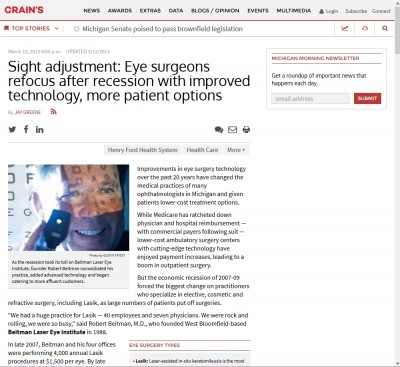 Improvements in eye surgery technology over the past 20 years have changed the medical practices of many ophthalmologists in Michigan and given patients lower-cost treatment options.
While Medicare has ratcheted down physician and hospital reimbursement — with commercial payers following suit — lower-cost ambulatory surgery centers with cutting-edge technology have enjoyed payment increases, leading to a boom in outpatient surgery.
But the economic recession of 2007-09 forced the biggest change on practitioners who specialize in elective, cosmetic and refractive surgery, including Lasik, as large numbers of patients put off surgeries.
The Ann Arbor News
December 17, 2012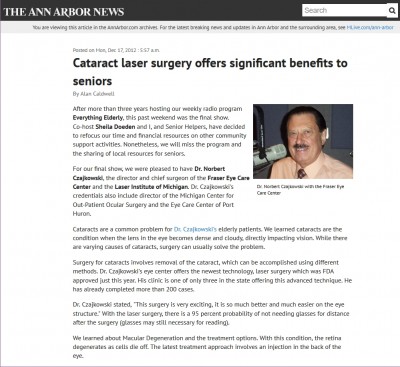 For our final show, we were pleased to have Dr. Norbert Czajkowski, the director and chief surgeon of the Fraser Eye Care Center and the Laser Institute of Michigan. Dr. Czajkowski's credentials also include director of the Michigan Center for Out-Patient Ocular Surgery and the Eye Care Center of Port Huron.
Cataracts are a common problem for Dr. Czajkowski's elderly patients. We learned cataracts are the condition when the lens in the eye becomes dense and cloudy, directly impacting vision. While there are varying causes of cataracts, surgery can usually solve the problem.
CBS Detroit
August 26, 2012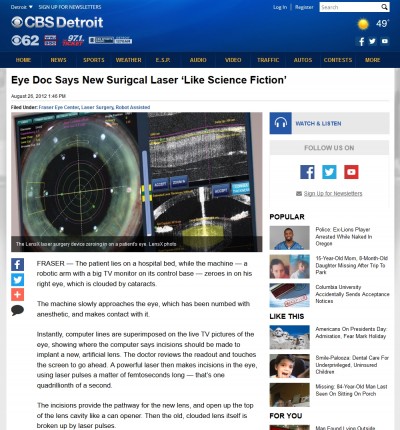 FRASER — The patient lies on a hospital bed, while the machine — a robotic arm with a big TV monitor on its control base — zeroes in on his right eye, which is clouded by cataracts.
The machine slowly approaches the eye, which has been numbed with anesthetic, and makes contact with it.
Instantly, computer lines are superimposed on the live TV pictures of the eye, showing where the computer says incisions should be made to implant a new, artificial lens. The doctor reviews the readout and touches the screen to go ahead. A powerful laser then makes incisions in the eye, using laser pulses a matter of femtoseconds long — that's one quadrillionth of a second.
Oakland Press
December 14, 2010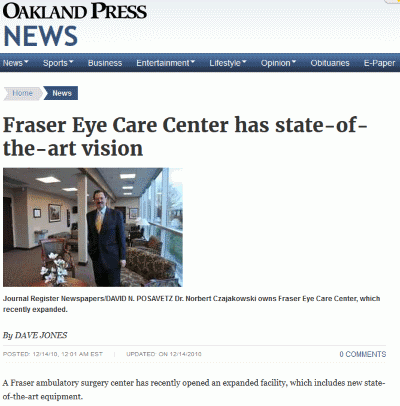 A Fraser ambulatory surgery center has recently opened an expanded facility, which includes new state-of-the-art equipment.
Fraser Eye Care Center, located on Utica Road, north of 14 Mile Road, has a 7,000-square-foot addition and has renovated the existing clinic on the same campus.
The clinic and ambulatory surgery centers' renovations and expansion include updated facilities as well as technologies.
Owned and operated by Dr. Norbert Czajakowski, who also serves as medical director, the Fraser Eye Care Center is fully staffed and includes complete medical and surgical care.
"We do full service ocular surgery," said Kathleen Donigan, Fraser Eye Care Center administrator and a registered nurse. "That includes retina surgery, which is a big deal because we are the only free-standing, retina surgery center in the metro-Detroit area."
Take Our Online
Self Evaluation
LASIK
Cataract
Dry Eye